Leica Fortis 6 2-12x50i er hagkvæmur kostur fyrir þá sem vilja góð gæði án þess að fara í efrimörk í verði. Leica Fortis er framleiddur  undir ströngu gæðaeftirliti þýskra tæknimanna í Portugal.  Glerin eru frá Wetzlar í Þýskalandi.
Verð: 
Hér má sjá nánari lýsingu á heimasíðu Leica: http://en.leica-camera.com/Sport-Optics/Leica-Hunting/Riflescopes/Leica-Fortis-6/Range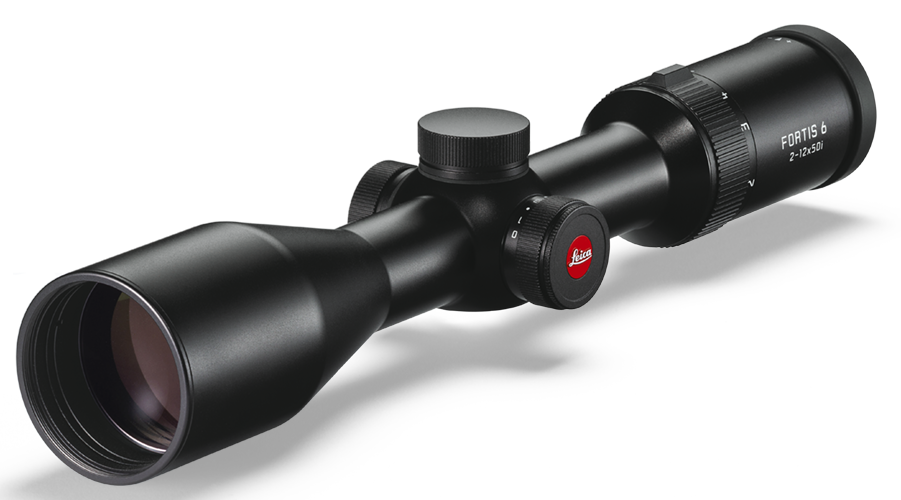 Hér er texti af heimasíðu Leica.
With the Fortis 6 2–12 x 50 i, Leica combines the puristic riflescope design with high optical imaging performance. The excellent detail recognition, the large wide-angle field of view and the uniquely high contrasts provide great observation comfort from the first to the last shooting light. The large magnification range makes the flexible, versatile use perfect in every hunting situation.
Front lens diameter
50 mm
Magnification
2 – 12 x
Zoom
6 x
Field of view at 100 m (min. up to max. magnification)
20.4 m to 3.5 m/100 m
Eye relief
> 90 mm
Exit pupil
12.4 up to 4.2 mm
Parallax free
100 m
Diopter compensation
–4/+3 dpt
Coating
AquaDura®
Transmission
92 %
Mounting option
30 mm rings / Zeiss internal-rail
Impact point correction
1 cm/100 m per click
Reticle Adjustment range (100 m)
230 x 230 cm
Front lens filter thread
M 52 x 0.75 mm
Main tube diameter
30 mm
Length
335 mm
Weight without / with rail
700 g / 725 g
Waterproof
down to 13.1 ft / 4 m;
nitrogen-filled
Reticles
L-4a
Retical focal Plane
2nd focal plane
Red-dot size at 10 x magnificationg
1,5 cm/100 m
Reticle illumination
Dot, 9 brightness levels
Automatic switch-off
3 min, 75° down,
60° upwards, 40° laterally
Automatic switch-on
activation by position
and/or movement